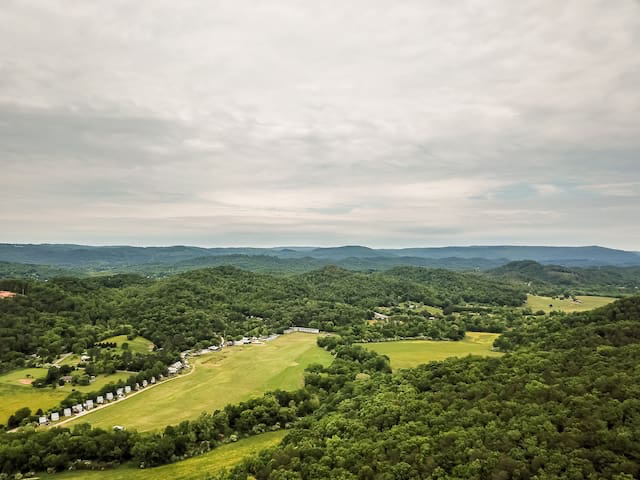 Managing your Vacation Rental just got easier!
Unique Stays will maximize your revenue potential by executing our perfect marketing and pricing strategy for your property listings. As we take you on the management journey with Unique Stays, we are sure you will have questions. One of our trusted local representatives will always be happy to help but here are some of the most common questions we see so you can have your questions answered anytime.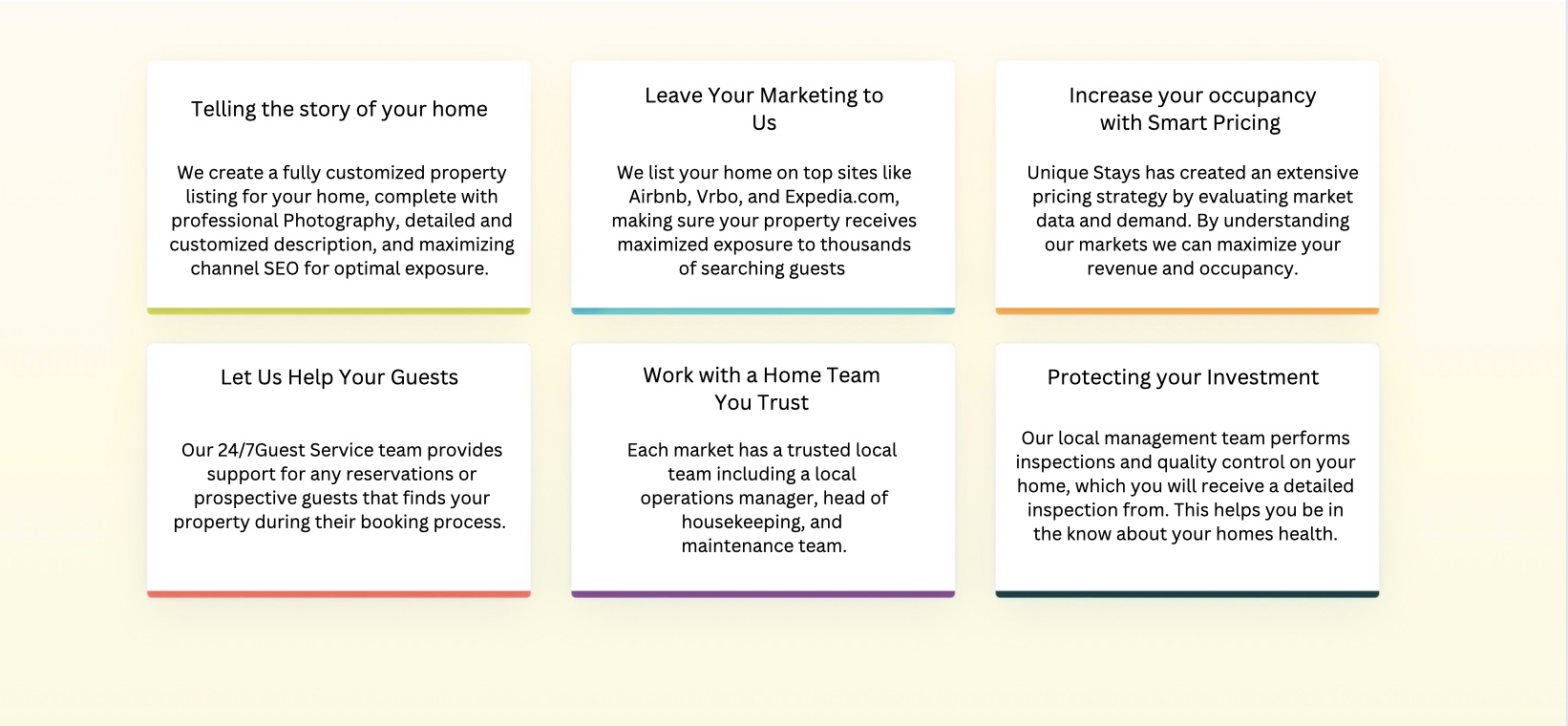 Unique Stays story
Fred Boothby, our founder, has been in the vacation-rental industry for years as a local host and short-term rental manager.  Through his property investment and construction companies, he has developed several multi-unit rental communities in addition to the vacation rental portfolio he manages for individual property owners.
Utilizing Key Data, we have maximized nightly rates and achieved higher overall occupancy for our properties. This is one of our core differentiators.
Onboarding with Unique Stays
Startup Costs
Welcome to your new vacation-rental journey with Unique Stays! We're excited to have you on board. As we dive in, let's talk a bit about startup costs. While existing owners won't have as many costs, new owners should plan for costs to exceed income for the first month or two. Here's what you need to know:

Repairs: Inspections often generate a laundry list of items that may need to be addressed. Prioritize what needs to be done, and we can help guide the process.

Décor/Furniture: Guests value properties based on how they look, so investing in unique pieces and features that photograph well can go a long way toward higher revenues. Of course, any broken or aged furniture should be replaced before it negatively impacts guest reviews. Spend a bit more on durable items since guests can be hard on things.

Home Updates: To succeed in the short-term rental market, it's essential to meet basic expectations. Ensure that all appliances work, provide a BBQ grill, and increase the number of beds to maximize occupancy for your property.  Bunk Beds, an amazing fire pit, outdoor gathering area, and board games are great value additions. To stand out from the crowd, offer unique amenities that guests don't often have. Properties with a hot tub,  pool, home theater, or barrel sauna can make a big difference in revenue.  As the number of bedrooms increases, so do the expectations for amenities. Just make sure to avoid high-maintenance items that may be impossible to maintain

Roku TVs: As a short-term-rental property owner, it's important to provide amenities that your guests expect. Streaming video content is one of those basics. We recommend outfitting your home with Roku-enabled TVs, or equipping existing TVs with Roku boxes. Roku allows guests either to watch free streaming content or log into their own streaming services. Unique Stays will provide you with our company Roku login to set up your TVs.  Standardizing on Roku allows us to provide guests with consistent operating and troubleshooting instructions, and the standardized Roku remote controls are universally compatible and cheap to replace when they inevitably go missing. 

Linens: We charge for a full set of linens up to twice a year as needed to cover the usual wear and tear from guest usage.

Deep cleans: We recommend deep cleaning the homes at least once a year, especially for heavily used or larger homes. This is a great reset for those hard-to-reach areas.

Utilities: Getting all the utilities in your name is important. Here's what you need to know:
*Propane: If your home uses propane, it may be wise to pay extra for monitoring the tank for auto-refilling.
*Internet: Spectrum, Xfinity, and Comcast are common high-speed providers. You may rent a modem/router from them to avoid service call issues down the road.
*Water: Homes on well water can have challenges like clogged filters, sediment, or sulfur smell. Pumps can go out, and wells may be shared with neighbors.
*Septic: We'll want to know as much information as you can provide regarding the number of septic tanks, sizes, and the date/company that last pumped your septic tank.
*Trash: You will want to arrange for trash pickup at your property so that our housekeeping teams can make sure bagged trash is put into trash cans after each guest's departure.
Your Contract with Unique Stays
We have no long-term contracts.  You can cancel at any time as long as there are no existing guest bookings on the calendar for your property. We believe that earning your business every month is a better way to be a good partner than locking you into a long-term agreement.
Handling Existing Reservations when moving to Unique Stays management
If you're purchasing an active vacation-rental home that already has reservations booked, we can help smooth the transition. If a home manager is in place, set a "stop date" with them, and have a "start date" with us a day afterward. If the owner manages bookings, we can cancel all the bookings on the day of closing and send the guests an invitation to rebook your home.
Typical "Go Live" Timeline
Going live is different for every home, but we follow a typical timeline. We inspect and onboard the home a day after you close the deal, deep clean it in the next couple of days, and present you with inspection findings after that. You'll then approve suggested repairs, and we'll purchase replacements for missing or damaged objects. After we receive photos from our photographer, we'll create the listing, and your home will be live and ready for bookings. Keep in mind that decor changes and repairs can delay this timeline.
Professional Photography
Investing in professional photos is one of the most important things we do when we bring on a home because it IS your marketing.  Photography is part of our onboarding process and not an additional expense to you.
How do I get started with Unique Stays?
First, we want to have a conversations. No one will benefit from making an uninformed decision. Your local representative will walk you through what our management services include, provide a revenue projection to you about your property, walk through your property with you to validate our projections, and help you with the on boarding process. Unique Stays is here to help you through this process and we will continue to support you after on boarding as well. We are looking forward to starting this journey with you!
Listing Sites
We'll list your home on several sites, including Airbnb, VRBO, and our Direct Booking website. While each site has its own rules and factors that determine search rankings, our goal is to make you the most money possible, not just to rank high in searches. We strike a balance between ranking and booking guests and adjust prices accordingly.
Don't Take Things Personally
Remember that your home is a tool for making money, not your personal vacation home. Guests may not treat your property as nicely as you'd want, and wear and tear is normal. Try to detach yourself emotionally, view it as a business, and focus on making a profit that you can reinvest in your property.


Obtaining Quality Guests
As property managers, we know that getting the right guests is crucial for a smooth and enjoyable vacation-rental experience. Here are some of the things we do to ensure that your home is occupied by quality guests while staying within the legal guidelines:

Age limit: We generally require guests to be at least 25 years old, but we can make exceptions for smaller homes if we discuss it with the guest. For larger homes, we stick to the age limit to avoid party-related incidents.

No pets: We avoid allowing pets that may shed hair at the properties.  We may consider some guest requests to bring pets based on the breed and hypoallergenic characteristics of the pet.

ID and guest list: We use WiFi data at each property to determine how many guests are at the property.  Using this information, we can charge additional guest fees for our owners.  While not mandatory, we may request a copy of the guest's photo ID and guest list to have an idea of what type of group is coming.  

Pricing: We set rates appropriately, with higher rates for bookings that are more than 30 days out, and lower prices for last-minute bookings made less than two weeks out. This helps to ensure that we don't attract guests who are only looking for the cheapest option.