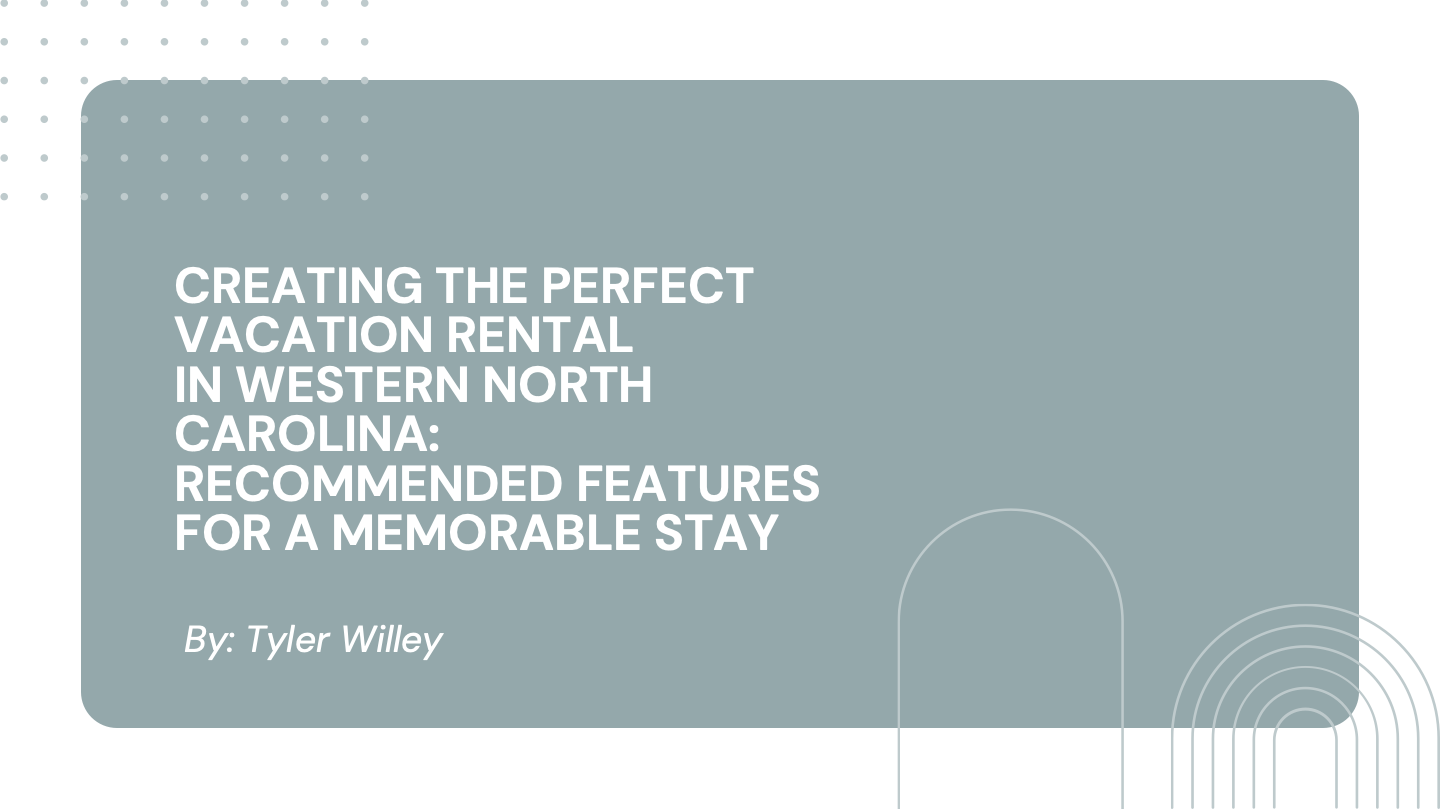 Nestled within the stunning landscapes of the Blue Ridge Mountains and offering a plethora of outdoor adventures, Western North Carolina is a dream destination for travelers seeking both relaxation and excitement. If you're considering turning your property into a vacation rental in this enchanting region, adding the right features can elevate it into a truly exceptional retreat. Let's explore the recommended features that can transform your home into the perfect vacation rental in Western North Carolina.
1. Rustic Outdoor Spaces Embrace the region's natural beauty by incorporating rustic outdoor spaces. Consider adding a spacious deck or patio where guests can relish in breathtaking mountain views, indulge in al fresco dining, or simply unwind in the serenity of the surroundings.
2. Hot Tub with a View Imagine soaking in a hot tub while surrounded by the panoramic beauty of the Blue Ridge Mountains. A hot tub with a view offers your guests the chance to relax and rejuvenate in the most picturesque setting, creating lasting memories.
3. Cozy Fireplace Western North Carolina is known for its cooler temperatures, especially in the evenings. A cozy fireplace, whether indoors or outdoors, provides warmth and a comforting ambiance, inviting guests to gather around, share stories, and create cherished moments.
4. Hiking and Adventure Gear Since the region is a haven for outdoor enthusiasts, consider providing hiking gear, bicycles, or even kayaks for your guests to explore the area's trails, waterways, and other adventures.
5. Fully-Equipped Kitchen Local produce and artisanal foods abound in Western North Carolina. Equip your vacation rental's kitchen with high-quality appliances and ample counter space, enabling guests to whip up delicious meals and savor the flavors of the region.
6. Local Art and Decor Immerse guests in the local culture by incorporating artwork and decor that reflects the charm of Western North Carolina. Handcrafted furnishings, pottery, and artwork from local artisans can infuse a unique and authentic atmosphere into your rental property.
7. Outdoor Fire Pit An outdoor fire pit provides the perfect setting for guests to gather under the stars, roast marshmallows, and share stories around the crackling fire. It's a fantastic addition that fosters connections and creates a sense of camaraderie.
8. Entertainment Room For days when the weather keeps guests indoors, having an entertainment room with a large screen TV, board games, and comfortable seating ensures that everyone stays entertained and engaged.
9. Nature-Inspired Spa Bathrooms Incorporate spa-inspired bathrooms that showcase natural elements like stone, wood, and plants. A rainfall shower head, deep soaking tub, and plush towels create a luxurious oasis where guests can unwind after a day of exploration.
10. Local Experiences Guide Provide guests with a curated guide to the best local experiences, including hiking trails, scenic drives, local eateries, and hidden gems. This guide will enhance their stay and help them discover the authentic beauty of Western North Carolina.
Turning your property into a remarkable vacation rental in Western North Carolina requires thoughtful planning and attention to detail. By incorporating features that capture the essence of the region's natural beauty and offering opportunities for relaxation and adventure, you can create a haven that guests will cherish and return to year after year. Whether it's taking in mountain views from a hot tub or gathering around a fireplace, these features will ensure that your vacation rental becomes a cherished part of every guest's journey through the enchanting landscapes of Western North Carolina.