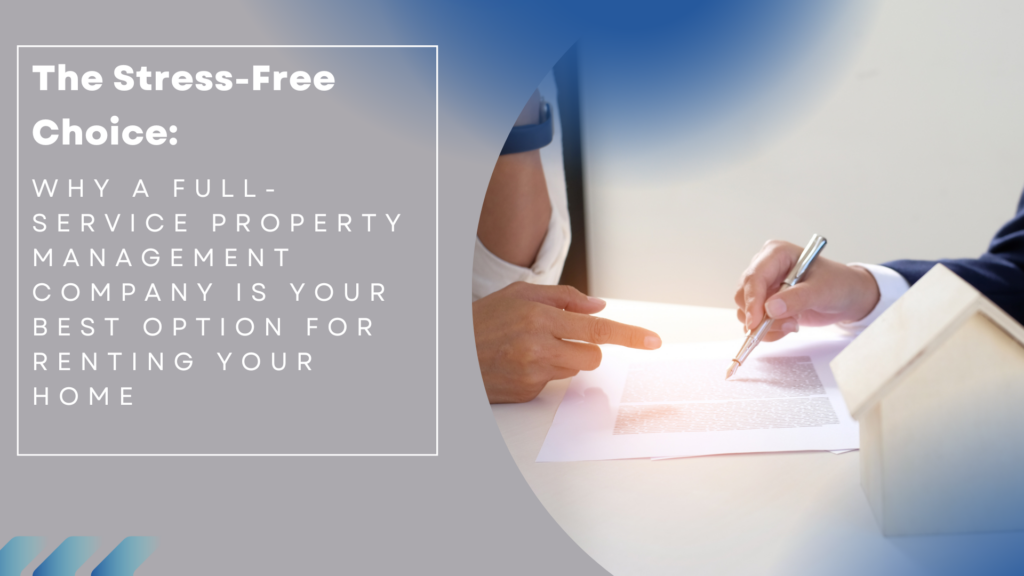 .
Renting out your property can be a lucrative endeavor, but it often comes with its fair share of challenges and responsibilities. From marketing your property to managing bookings and ensuring a seamless guest experience, the tasks can quickly pile up, leading to stress and overwhelm. This is where a full-service property management company steps in, offering a comprehensive solution that lets you enjoy the benefits of rental income without the headaches. Let's delve into why choosing a full-service property management company is the best way to rent your home stress-free.
1. Expertise and Experience Property management companies bring a wealth of experience and industry expertise to the table. They know the ins and outs of the rental market, understand the local regulations, and are well-equipped to handle any challenges that may arise. This expertise translates to a smoother, more successful rental experience for you.
2. Marketing and Promotion One of the key challenges of renting your property is effective marketing. Property management companies have a dedicated team that can create compelling listings, professional photographs, and targeted marketing campaigns to attract potential guests. This ensures maximum visibility and higher occupancy rates for your property.
3. Screening and Tenant Selection Finding the right guests is crucial for a positive rental experience. Property management companies have stringent screening processes in place to select reliable and responsible tenants. This reduces the risk of damage to your property and ensures a respectful guest community.
4. Hassle-Free Guest Communication Responding to inquiries, managing bookings, and coordinating check-ins and check-outs can be time-consuming. A property management company handles all guest communication, ensuring a prompt and professional response to inquiries, as well as seamless coordination of arrivals and departures.
5. Maintenance and Repairs Property maintenance is an ongoing task that requires attention to detail. With a full-service property management company, you can rest easy knowing that regular maintenance, repairs, and emergency issues will be taken care of promptly, helping to preserve the value of your property.
6. 24/7 Support Guests often have questions or issues that arise outside of regular business hours. Property management companies provide 24/7 guest support, ensuring that guests are taken care of at any time, day or night. This level of service enhances the guest experience and minimizes potential disruptions.
7. Legal Compliance Navigating the legal and regulatory landscape of property rentals can be complex. Property management companies are well-versed in local laws and regulations, ensuring that your property is compliant with all requirements, from permits to taxes.
8. Transparent Financial Reporting Managing rental income, expenses, and financial reports can be overwhelming. Property management companies offer transparent financial reporting, giving you a clear picture of your rental income and expenses, making tax season stress-free.
9. Peace of Mind Perhaps the most significant advantage of opting for a full-service property management company is the peace of mind it provides. You can enjoy the benefits of rental income without the stress of day-to-day management, allowing you to focus on other aspects of your life.
10. Maximizing Revenue Property management companies are dedicated to optimizing your rental income. From setting competitive rental rates to implementing strategies that increase bookings, they work to ensure that you achieve the highest possible revenue from your property.
Conclusion Renting your home should be a rewarding experience, not a source of stress. A full-service property management company takes the burden off your shoulders, handling everything from marketing and guest communication to maintenance and legal compliance. With their expertise and dedication, you can enjoy the benefits of rental income while leaving the complexities of property management to the professionals. It's the stress-free choice that allows you to truly make the most of your investment.